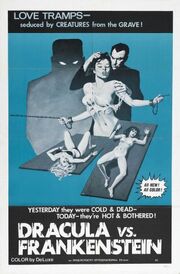 Dracula vs. Frankenstein is a 1971 United States horror film directed by Al Adamson.
A mad scientist (played by J. Carrol Naish) descended from the original Dr. Frankenstein takes to murdering young women for experimentation in hopes of reviving his ancestor's creation, with help from his mute assistant (played by Lon Chaney, Jr.). Things start to heat up when Dracula (played by Zandor Vorkov) arrives and promises to revive Frankenstein's monster in return for a serum which will grant him immortality.
Production
Edit
This was Lon Chaney, Jr.'s final horror film role and J. Carrol Naish's last film. Chaney filmed his part in mid-1969 when the film was titled Blood Seekers; Naish filmed additional footage in 1970 when Dracula and the Frankenstein Monster were added to the story (and in his confrontation scene with Dracula, he appears noticeably older).[1] Regina Carrol appears in the film as one of the people who discover the two title monsters; in reality, she was married to director Adamson. The film was released on DVD by Troma Entertainment.[2]
External links
Edit
Ad blocker interference detected!
Wikia is a free-to-use site that makes money from advertising. We have a modified experience for viewers using ad blockers

Wikia is not accessible if you've made further modifications. Remove the custom ad blocker rule(s) and the page will load as expected.