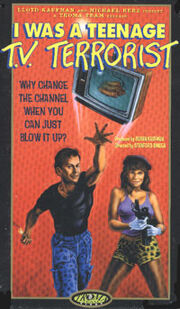 I Was a Teenage TV Terrorist (also known as Amateur Hour) is a 1985 comedy film directed by Stanford Singer and distributed by Troma Entertainment. The film follows two bored teenagers, anarchic troublemaker Paul and aspiring actress Donna, as they use Paul's father's TV station to stage an elaborate bomb hoax and throw the media into a frenzy. The film was produced by Susan Kaufman, the sister of Lloyd Kaufman, the president of Troma Entertainment.
External links
Edit
Ad blocker interference detected!
Wikia is a free-to-use site that makes money from advertising. We have a modified experience for viewers using ad blockers

Wikia is not accessible if you've made further modifications. Remove the custom ad blocker rule(s) and the page will load as expected.