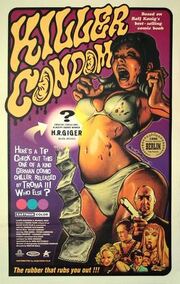 Killer Condom (original title Kondom des Grauens (English: Condom of Horror)) is a 1996 German horror comedy directed by Martin Walz. It is based on the comic book of the same name by Ralf König.
It was distributed in the United States by Troma Entertainment.
Tagline: The rubber that rubs YOU out!
Set in the seedy parts of New York City, Killer Condom follows gay Detective Luigi Mackeroni (Udo Samel), who has been hired to investigate a series of bizarre attacks at the Hotel Quickie in which male guests have all had their penises mysteriously bitten off. While at the crime scene, he enlists the services of a gigolo named Billy and invites him up to the crime room. Before the two men engage in sex, a carnivorous living condom interrupts them and bites off Mackeroni's right testicle.
Now on a personal vendetta, Mackeroni begins his lone quest to not only bring a stop to the rash of condom attacks, but also face his true feelings toward Billy the gigolo.
External links
Edit
Ad blocker interference detected!
Wikia is a free-to-use site that makes money from advertising. We have a modified experience for viewers using ad blockers

Wikia is not accessible if you've made further modifications. Remove the custom ad blocker rule(s) and the page will load as expected.