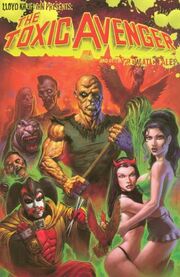 Lloyd Kaufman Presents: The Toxic Avenger and Other Tromatic Tales is an original graphic novel released by Devil's Due Publishing in 2007. It features stories based on numerous Troma Entertainment films.
Editor: Tim Seeley
Assistant Editor: Tim Straub
Design: Sean Dove
Credit page art: Marco Failla
Troma art director: James Bernardinelli
Poultrygeist producer: Keil Walker
Troma President: Lloyd Kaufman
Dedicated to the Memory of: Daniel Robert Epstein (1976 - 2007)
Introduction by Lloyd Kaufman
Tromettes pin-up by Rob Randle
Toxic Avenger pin-up by Art Baltazar
Screamplay pin-up by Luke Smarto
Sgt. Kabukiman N.Y.P.D. pin-up by Gabe Eltaeb and Nick Runge
Toxic Avenger pin-up by Matt Munn
Toxic Avenger pin-up by Andrew Barr
Toxic Avenger pin-up by Chris Burnham
Toxie and Melvin pin-up by Marco Failla
Ad blocker interference detected!
Wikia is a free-to-use site that makes money from advertising. We have a modified experience for viewers using ad blockers

Wikia is not accessible if you've made further modifications. Remove the custom ad blocker rule(s) and the page will load as expected.