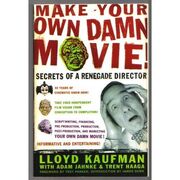 Make Your Own Damn Movie!: Secrets of a Renegade Director is written by Lloyd Kaufman (with Adam Jahnke and Trent Haaga) published by St. Martin's, in 2003. Kaufman is the co-founder of B-movie company Troma Entertainment and the director of such films as The Toxic Avenger, Class of Nuke 'Em High, and Terror Firmer.
Kaufman and Haaga had previously collaborated on the 1999 film Terror Firmer and the 2001 film Citizen Toxie: The Toxic Avenger IV.
The A.V. Club called the book
Publishers Weekly stated,
The foreword to the book was written by South Park co-creator Trey Parker. The introduction was penned by frequent Kaufman collaborator James Gunn. Gunn had previously co-written All I Need to Know about Filmmaking I Learned from the Toxic Avenger with Kaufman.
References
Edit
External links
Edit