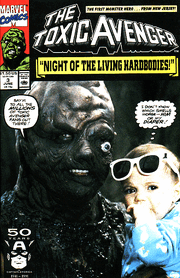 #3:"Night of the Living Hardbodies!"
Edit
Script: Doug Moench
Pencils: Rod Ramos
Inks: Val Mayerik
Colors: Bob Sharen
Lettering: Rick Parker
Editor: Jim Salicrup, Tom DeFalco (in-chief)

Major characters: Toxie, zombies [Rocco, Shirleen, Jamie], Red Team [Demos, Luci, Asmo, Drekko, Astarte], George Kazopoulous, Mr. Ahriman, Mr. Chairman, Bahd, Rahd, Police Chief Roddy Hoag, Mrs. Junko, Claire, Sparrow Creach, nameless eduitor, Eboni, Letitia Griese, Mr. Greco, Jimmy, Biff, Eileen
External links
Edit
Ad blocker interference detected!
Wikia is a free-to-use site that makes money from advertising. We have a modified experience for viewers using ad blockers

Wikia is not accessible if you've made further modifications. Remove the custom ad blocker rule(s) and the page will load as expected.