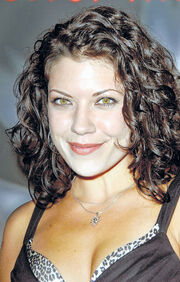 {Infobox person
| image = | imagesize = | caption = | name = Tiffany Shepis | birth_date = Template:Birth date and age | birth_place = New York City, New York, U.S. | death_date = | death_place = | othername = | spouse = Sean Tretta (2010–present) | website =Template:Url | occupation = Actress | yearsactive = 1996–present }} Tiffany Shepis (born September 11, 1979) is an American actress from New York City, who has been involved in film-making since the age of 12. She is popularly known as a "scream queen" in several horror films.
Shepis got her start in Troma Entertainment's Tromeo and Juliet and has since appeared in many low-budget horror-oriented B movies. In 2004, Shepis appeared in the independent comedy The Deviants as "Marina the Nudist." Recent films include New Terminal Hotel, Dorm of the Dead, Bonnie and Clyde vs Dracula, Basement Jack, Nightmare Man, Chainsaw Cheerleaders, Beg. She is seen as "Diana" in Adam Gierasch's remake Night of the Demons, released in September 2010, and stars in The Violent Kind,[1] which received its world premiere at the 2010 Sundance Film Festival, in the horror sidebar Park City At Midnight.[2] Shepis co-stars with Belladonna in the Psycho thriller Stripped.[3]
Interviewed in magazines such as Femme Fatales and Sirens of Cinema, Shepis has said she "loves blood and gore" in movies, but detests real violence.[4]
Personal life
Edit
Shepis has two chihuahuas, named Vlad the Impaler and Boris Karloff.[5] She was formerly engaged to actor Corey Haim in October 2008; the engagement was called off in early 2009.[6] In 2010, Shepis married director Sean Tretta.
Filmography
Edit
Year
Title
Role
Other notes
1996
Tromeo and Juliet
Peter
1997
Sgt. Kabukiman Public Service Announcement
Daddy's Little Girl
1998
Shampoo Horns
Amy
1999
Some Fish Can Fly
Partier
Chickboxin Underground
Xerxes
2000
Citizen Toxie: The Toxic Avenger IV
Beautiful Interpretative Dancer
Everything for a Reason
Joanne
(as Tiffany J. Shepis)
Emmanuelle 2000: Emmanuelle's Intimate Encounters
Janice
2001
Pretty Cool
2002
Vinyl Dolls
Finola
Embrace the Darkness
Anna
(as Vanessa Lynch)
Ted Bundy
Tina Gabler (Kidnap Victim)
Smoke Pot Till You Fucking Die
Maya
Death Factory
Alexa
Scarecrow
Judy Patterson
2003
Detour
Tiffany
The Ghouls
Delta Delta Die! (V)
Patrice
Emmanuelle 2000: Emmanuelle Pie
Biker Chick
Bloody Murder 2: Closing Camp
Angela
Pauly Shore Is Dead
2004
Corpses
Rhonda Winston
The Deviants
Marina the Nudist
The Hazing
Marsha Glazer
Home Sick
Candice
2005
The Basement
Steph
Boobies
Bar Photo
2006
Dorm of the Dead
Amy
Nightmare Man
Mia
Abominable
Tracy
Hoodoo for Voodoo
Ayida
The Sugar Creek Killer
Cat
Revenge Live
2007
Shudder
Indian Girl
Chainsaw Cheerleaders
Lucinda
Home Sick
Candice[7][8]
Dark Reel
Cassie Blue
Bryan Loves You
Cindy
Pretty Cool 2
Tracy
Nympha
Sarah
Sludge
Donna
2008
Resist Evil Part One: Dropping Evil
Dionysia
Zombies! Zombies! Zombies!
Tiffany
2009
Trade In
Crystal
Curve of the Earth
Courtney
The Queen of Screams
Naomi Stewart
Godkiller: Walk Among Us
Angelfuck
Voice[9]
Monsterpiece Theatre Volume 1 (segment "Moonlighting")
Jordan
Night of the Demons
Diana
2010
She Wolf Rising[10]
Gina Skylar
New Terminal Hotel[11]
Ava Collins
Come on Down[12]
Leya Barker
The Black Box
Tammy
Stripped[13]
The Violent Kind[14]
Michelle
Stingy Jack
Ella-May
pre-production
2011
Paranoia
Sherry
post-production
Thorns From a Rose
Laurie
pre-production
Hollow Pointe
Tracy
pre-production
Mountain Mafia
Tara
post-production
Insignificant Celluloid
Tiffany Shepis
post-production
Dropping Evil
Dionysia
Good Boy
Daisy
Intrusion: Disconnected
Laura Braden
post-production
2012
Dirty Little Trick
Kelly
pre-production
2013
Exit to Hell
Jenna
References
Edit
External links
Edit
Ad blocker interference detected!
Wikia is a free-to-use site that makes money from advertising. We have a modified experience for viewers using ad blockers

Wikia is not accessible if you've made further modifications. Remove the custom ad blocker rule(s) and the page will load as expected.