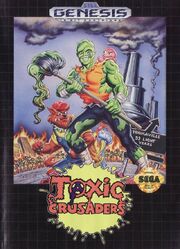 Toxic Crusaders is a side-scrolling, beat 'em up video game for the SEGA Genesis based on the American cartoon series Toxic Crusaders (1991). It was developed by Infogrames and published by SEGA in 1992.
Produced by Stewart Kosoy
Music by Frederic Menzen
Design Team: Gary Barth, Stewart Kosoy, Thibault Lepoutre, Vincent Pourieux, and Steve Snyder
Art by Didier Chanfray and Josiane Girard (as Josyane Girard)
Programmed by Thibault Lepoutre and Vincent Pourieux
Special Thanks: Javone Alonzo, Yael Barroz, and Fred Bourgeain
Cover art by Greg Martin[1]
External Links
Edit
References
Edit
Ad blocker interference detected!
Wikia is a free-to-use site that makes money from advertising. We have a modified experience for viewers using ad blockers

Wikia is not accessible if you've made further modifications. Remove the custom ad blocker rule(s) and the page will load as expected.