Toxie/The Toxic Avenger (Melvin Junko/Ferd)



gender

male

First Appearance

The Toxic Avenger (Marvel series) #1

Marital

Sara

Parents

Munis Junko/Ferd

Toxie/The Toxic Avenger (real name: Melvin Junko/Ferd) has appeared in many comic books based off the movie character of the same name .
Marvel Comics Toxic Avenger series biography
Edit
The New Adventures of the Toxic Avenger biography
Edit
Lloyd Kaufman Presents the Toxic Avenger and Other Tromatic Tales biography
Edit
Appearances
Edit
3D Cowboy's Cosmic Convict Challenge(rs)
One-shot
AMAZING HEROES SWIMSUIT SPECIAL
2 (1991) (P/U)

CRACKED
351

HACK/SLASH v1
18

L♥VEBUNNY AND MR. HELL
TPB (P/U)

LLOYD KAUFMAN PRESENTS THE TOXIC AVENGER AND OTHER TROMATIC TALES

MARVEL AGE

THE NEW ADVENTURES OF THE TOXIC AVENGER

SUPERNATURAL LAW
45

THE TOXIC AVENGER (MARVEL)
1, 2, 3, 4, 5, 6, 7, 8, 9, 10, 11

WAR OF THE INDEPENDENTS
4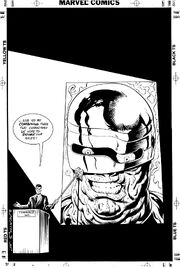 Toxie was slated to make a guest appearance in issue #25 of Marvel's RoboCop comic book (which like Toxie's series at Marvel, was edited by Rob Tokar), but the series was cancelled before the issue was produced, although Lee Sullivan completed the cover art.
External Links
Edit
Ad blocker interference detected!
Wikia is a free-to-use site that makes money from advertising. We have a modified experience for viewers using ad blockers

Wikia is not accessible if you've made further modifications. Remove the custom ad blocker rule(s) and the page will load as expected.